Saturday 25 May. Demo by Graham Webber.
Demo by Graham Webber, Saturday 25 May at United Reform Church Ipswich Road Norwich from 1.45 to 4pm. Members free, non members welcome for a small fee.
Graham will be giving an oil demo which will include boats. Graham is a member of ROI and IEA and has exhibited widely in the UK. He has won several awards for his work and contributes to various art magazines.
Forum Exhibition now on!
The exhibition at the Forum, Norwich, is now on, open daily from 10-5 until Thursday 16 May when it will close at 3pm. Some images of work in the exhibition are showing on our home page and also in the exhibitions gallery. But there is much more there to be admired.
May 2019 Social gathering.
The next social gathering is on Tuesday 14th May at

The Royal Oak
44 The Street
Poringland
Norwich
NR14 7JT
Tel: 01508 493734

starting at 7pm.

The theme is "Light and Shade". Members are invited to bring a piece of their own work with this theme or talk briefly about other artists work within the theme. This gathering is becoming quite popular with a core group of members - a warm welcome awaits you! For more details contact Clive Brookes clive@theautumnhousestudio.co.uk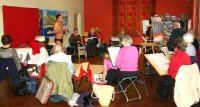 See all the dates and information below. The model for May is Lisa and this will be a costume or portrait session. Wednesday May 8th 2019
...more
2019 Forum Exhibition
The exhibition runs from the 10 to 16 May 2019. 130+ pieces of 2 and 3D art, most for sale.
Annual General Meeting 2019
The NNAC AGM will be held at The United Reform Church, Ipswich road, Norwich on Saturday 23 March at 2pm
Do come along and support your Art Circle if you can.
Please remember to bring your membership fee for 2019/20. The fee is £20 for a single person and £30 for a couple.
The agenda for the meeting can be found in the "Newsletters" section of the website.
Sue Williams, pen and wash demo, Saturday 26th January
We are very grateful to Sue Williams for stepping in at nearly the last minute to do a pen and wash demonstration, after Malcolm Jarvis had to cancel. It was a very inspirational demonstration, with Sue doing 4 different paintings. She started using a Sharpie pen to draw and shade a garden shed, then added some watercolour to add more life to it. Chickens were drawn with a scribble technique and Pansies with a continuous line to show the different effects. Another was done with a wooden stirrer dipped in Sepia Acrylic Ink which gives a lovely broken line of different thicknesses, again some colour was added with Inks and watercolour.
Members please e mail NNAC with details to have your exhibitions added here.
...more
NNAC member Gilly is running a series of workshops for 2019. Some for beginners and others for intermediate/improvers. Read on to find out
...more
Workshop with Rachel Thomas Saturday 9th February - now fully subscribed.
10am-4pm Nelson Street First School, Norwich. Subject: Landscape multi media, bring own reference. Members £25, non members £30. To secure a place please send a cheque, made out to Norfolk and Norwich Art Circle to Jan Motley, 22 Summer Close, Framingham Earl, Norwich, NR14 7TN. Places will be allocated on a first come first served basis.
Demonstrations are free for members. Unless otherwise stated please arrive promptly by 1.45 pm. Booking is not needed. Non members welcome for a nominal charge of £3-£5 per demonstration.
Workshops must be booked in advance. Fees may vary. Details will be published on the website and in the newsletter.
...more
Workshop with Liz Balkwill, Still Life in oils or pastel.
The workshop was about the setting up of a simple still life. We were asked to bring three or more objects and oil paint or pastels.
Liz began the day with a lively and interesting demo. She gave us ideas about successful ways to set up our objects within a three cornered board. She encouraged us to look at the shapes and pattern of the items within the space Then beginning with the first tonal layer of paint, we watched her gradually building up the colour using freshly mixed "piles" of paint. Liz told us that she actually keeps her palette in the freezer which keeps it all fresh and clean to use again!
Each of us then worked individually on our own arrangements and most certainly achieved great results, because at the end of the day our paintings made an impressive display!
by Julie Hodgson
Easel Party Saturday 27th October
Reminder it is our annual Feed Up and Feed Back Easel Party
2pm to 4pm
Saturday 27th October at United Reform Church

We hope you are able to join us for this Autumn gathering. Drinks will be provided. If you are able, bring some finger food to share. This is an opportunity to bring along work not accepted at selection for further comment, bring work in progress for comment, bring surplus materials to sell to members, bring a postcard size example of your work to swap!!! Or just come along and chat !!!

Please DO NOT park in the space reserved for church staff
Call to Artists Cley 19 Borderlines
From 4th July to 4th August 2019 at the Cley Norfolk Wildlife Trust visitor centre. Deadline for applications is Monday 26th November 2018. For more information and an application form go to
http://www.cleycontemporaryart.org/
Water's Edge exhibition October 24th to November 20th 2018
Member Lorraine Auton has organised this exhibition at the Studio Art Gallery, Acle in support of the Ocean Clean up campaign. Several NNAC members will be exhibiting there. The private view will be held on October 23rd from 7-9pm. For more details contact Lorraine on 01493 752089 lorraineautonart.co.uk
Forum Exhibition 2018. The Jarrold prize winner
The winner of the Jarrold Art Prize at the 2018 Forum exhibition is Sue Willmer with her watercolour, Wetlands. Congratulations Sue! Sue wins a selection of art materials from Jarrold of Norwich. Thanks go to Jarrold of Norwich for their generous support.
Workshop with Ian McManus, watercolour
Saturday 13th October. The attendance was low due to other art activities taking place. The watercolour workshop, in my opinion, was one of the best I've ever attended. I was so pleased to get there. Please may we have this talented artist back again. By Marian Auger
Demo, Robert Nelmes. Satruday 22 September 1.45 - 4pm, URCH
Robert, who works in oils and watercolour and works often en plein air, will give us an oil landscape demonstration.
The demo will be held at URCH. Arrive by 1.45pm, demo finishes at 4pm.
Free for members. Non members also welcome for a small fee. Join NNAC on the day and get the fee refunded! No need to book, just turn up by 1.45pm sharp!
The Forum Exhibition 2018
The exhibition will be held at the Forum, Norwich starting on Sunday 30th September and closing at 3pm on Saturday 6th October. A small selection of work which will be on show can be found in the gallery heading on the home page.
Pop up Painting day 24th August
Kirstead Hall Pop-up Painting Day
Friday 24th August 2018
10.00am until 4.00pm

Ten members braved the drop in temperatures to paint in the wonderful surroundings of Kirstead Hall. We were made very welcome with coffee and tea readily available and enjoyed painting, drawing and sketching in the late summer sunshine. Thanks to Rae Dunthorne for getting this arranged for us.
What a lovely trip members had to Castle House, Dedham, the Munnings Museum, last Saturday.
...more
Demo, John Patchett, Saturday 21st July NELSON ST First School. 1.45pm to 4pm. Please note venue!
John Patchett is a well known Norfolk artist who works in soft pastel. He is noted for his vibrant paintings of Norwich market though he does many landscapes, cityscapes and seascapes. he will demonstrate from sketch to finish, probably, giving tips on use of soft pastels along the way.
On Satruday 4th August. £25 per person
...more
At Framingham Earl High school from 1.45pm to 4pm
...more
Exhibition opportunities!
The Bank, Eye is looking for artists to exhibit for a month at a time, either individually or as a group. There is no hanging fee but commission will be taken at 20% on sales. Artists are requested to hang the exhibition, although there will be some limited help. E mail Sally at s.mcsheehy@btinternet.com for more information. The Bank Eye also has a website
http://www.thebankeye.org/
and a Facebook page
https://www.facebook.com/The.Bank.Eye/
1.30 for 2pm start until 4pm. Free for members. Non members £3
...more
Saturday January 27th, portrait demo by John Glover
Members had the opportunity to watch a demonstration by John Glover of a portrait in oils. You will remember that last year he did a portrait in pastels for us. This time his subject was our vice chairman Eleanor Alison who made a very good model. In a limited time he produced an excellent likeness alla prima and had everyone completely engaged in his process. Thank you John.
Art in Norwich August 2017 - March 2018
...more