Selection for the Hostry Exhibition
Selection day for our 200th Exhibition at the Hostry, Norwich Cathedral is coming up soon on the 3rd August. Submission forms with all the details have been sent to members. Please note the new venue to bring your work for selection, Easton Village Hall, Marlingford Road, Easton, Norwich, NR9 5AD
The exhibition itself will be held from 27th September to 14th October 2019.
July 2019 Social gathering.
The next social gathering is on Tuesday 16th July at

The Royal Oak
44 The Street
Poringland
Norwich
NR14 7JT
Tel: 01508 493734

starting at 7pm.

The theme is "New life". Members are invited to bring a piece of their own work with this theme or talk briefly about other artists work within the theme. You will be warmly welcomed by an established and growing group of members.Friends and non members welcome. For more details contact Clive Brookes clive@theautumnhousestudio.co.uk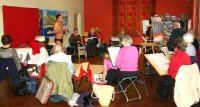 See all the dates and information below. There will be no life drawing group in July and August. See you in September!
...more
Demo by Sharon Hurst 27 April 2019
Sharon Hurst is a very popular artist and workshop leader based in the South West. She will be familiar to any member of the SAA for, amongst other things, her romantic (and ever so slightly, temperature-raising) portraits of fantasy characters (men and women)! Much influenced by album covers of the 1970s, the fiction of JRR Tolkein and the work of pre-Raphaelite painters such as Burne Jones and Millais, her work echoes the current popularity of the genre as seen in Game of Thrones, Harry Potter and other fictional worlds. However, the demonstration she gave of her watercolour skills was an object lesson in how to explain and demonstrate art techniques and will have been of value to anyone using the medium – regardless of subject matter. Sharon set out her methods and techniques in a wonderfully clear manner – using humour, historical facts, colour theory and much other asides. Her personality shone through. In particular, the detailed demonstration of her methods for building up multiple glazes to add convincing depth to skin tones will have been of great value. She even convinced this committed oil painter to look out his watercolours again!

Malcolm Cudmore
Visit to the Munnings Museum, Summer 2019
22 members travelled to the museum at Dedham to take advantage of the opportunity to see the exhibition of war paintings by Sir Alfred Munnings, a former member of the art circle. It is a memorable collection of his work during the first world war and well worth visiting. During the afternoon easels and sketch books emerged and members of the public were encouraged to view our work and discuss technique etc as well as painting alongside NNAC members. With fine weather, good company and great hospitality from the staff at the museum it was a very enjoyable day.
Sue Willmer
Demo by Graham Webber. Saturday 25 May
Graham demonstrated oil painting with a large painting of Pin Mill, which he did using an oil sketch he had done en plein air. He uses cheap brushes and scrubs the first layer with thin, but undiluted paint. He then builds up the detail with subsequent layers. It was a fantastic demo. Graham is a member of ROI and IEA and has exhibited widely in the UK. He has won several awards for his work and contributes to various art magazines.
2019 Forum Exhibition
The exhibition ran from the 10 to 16 May 2019. 130+ pieces of 2 and 3D art, most for sale.
Members please e mail NNAC with details to have your exhibitions added here.
...more
NNAC member Gilly is running a series of workshops for 2019. Some for beginners and others for intermediate/improvers. Read on to find out
...more
Demonstrations are free for members. Unless otherwise stated please arrive promptly by 1.45 pm. Booking is not needed. Non members welcome for a nominal charge of £3-£5 per demonstration.
Workshops must be booked in advance. Fees may vary. Details will be published on the website and in the newsletter.
...more
Art in Norwich August 2017 - March 2018
...more