November 2019 Social gathering.
The next social gathering is on Tuesday the 12 November at

The Royal Oak
44 The Street
Poringland
Norwich
NR14 7JT
Tel: 01508 493734

starting at 7pm.

The theme is "Japan". Members are invited to bring a piece of their own work with this theme or talk briefly about other artists work within the theme. You will be warmly welcomed by an established and growing group of members.Friends and non members welcome. For more details contact Clive Brookes clive@theautumnhousestudio.co.uk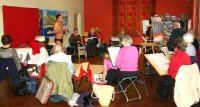 The November Life group is on Wednesday the 13th November. Our model is Cecily who will be doing 2 short poses followed by a long pose. There will be no Life group in December. Watch this space for details of the 2020 programme.
...more
Members please e mail NNAC with details to have your exhibitions added here.
...more
Demonstrations are free for members. Unless otherwise stated please arrive promptly by 1.45 pm. Booking is not needed. Non members welcome for a nominal charge of £3-£5 per demonstration.
Workshops must be booked in advance. Fees may vary. Details will be published on the website and in the newsletter.
...more
Visit to the Munnings Museum, Summer 2019
22 members travelled to the museum at Dedham to take advantage of the opportunity to see the exhibition of war paintings by Sir Alfred Munnings, a former member of the art circle. It is a memorable collection of his work during the first world war and well worth visiting. During the afternoon easels and sketch books emerged and members of the public were encouraged to view our work and discuss technique etc as well as painting alongside NNAC members. With fine weather, good company and great hospitality from the staff at the museum it was a very enjoyable day.
Sue Willmer
Art in Norwich August 2017 - March 2018
...more